Annual Events
Wildlife and Wildlands
Art Show:
The Wildlife and Wildlands Art Show is held every January in area 3 at Delnor-Wiggins Pass State Park. This event showcases the natural and cultural resources of Florida through artistic expression. The show features the work of 15 to 20 artists. A wide variety of art mediums are represented in the show. You are invited to meet the artists as you stroll through the beautiful show site, the maritime hammock picnic area along the beach. In addition, a food vendor is available for lunch and ice cream from Royal Scoop Ice Cream is also available for purchase. Visitors can also purchase tickets for a Drawing of Chance.

Photography, Jewelry, Native Materials, Watercolors, Oils, Pastels, Glass, Ceramics and more...
Nature Festival:
Cancelled due to Irma
The Wiggins Pass Nature Fest is an annual full day event sponsored by the park with help from the Friends. Held in the fall, the Nature Fest offers opportunities for all ages to learn about the plants and wildlife of southwest Florida while participating in various programs, activities, and crafts in beautiful picnic area 3. Programs include story time and ranger-led programs. Activities include shell seeking, face painting, and paddle boarding. Crafts incorporate native materials such as shells, leaves, and pine cones which are found in the park and surrounding areas. In addition, many local environmental organizations display exhibits that demonstrate the importance of wildlife and conservation. Food and snacks are available for purchase from a food vendor and the Friends.
Children's Art Show:
In February 2014, the Friends of Delnor-Wiggins Pass State Park hosted their First Annual Children's Art Show, at Delnor-Wiggins Pass State Park. The goals of this event are to showcase the artistic talents of our local students and to promote community awareness and enjoyment of our Park. Artwork from Collier County public and private schools, grades K – 5, is displayed on open webbing at the pavilion in area 5. On Saturday morning judges award 1st, 2nd, 3rd, and Honorable Mention in K-2 and 3 – 5 grades. Park rangers also award a Rangers' Pick ribbon in the same grade groups. The public can vote for the People's Choice Award which is awarded on the following day. The event is FREE with park entrance fee.
One-Person Art Show for Resident Artist: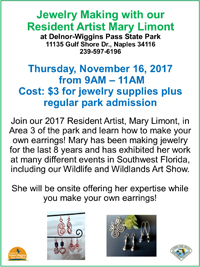 Each year since 2007 one of our Art Show Artists is chosen to be the Park's Resident Artist for the year. This artist is featured at our January Art Show and we offer the artist a One-Person Art Show. The artist is also invited to work in the park throughout the year. Information about the Resident Artist's visits will be included in the quarterly Park newsletters.
Our 2017 Resident Artist, Mary Limont, will have a show on Sunday, December 3 from 10 to 3 PM - See Flyer